Brine Chillers in India, Highly efficient product!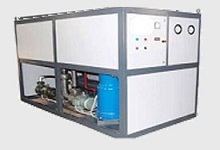 Owing to our capability in this domain, we, as brine chiller manufacturers, prominently offer our customers an efficient Brine Chilling system. We produce these brine chillers by incorporating high-review crude material and the most recent technology. The offered range of chilling brine plants by Refcon is broadly valued throughout the country for its top-class working system. Keeping up with the brine chiller plant working principle and striking characteristics, we deliver prominently leading technologies to all our clients. With our quality range of brine cooling systems, we can keep up a solid foothold in this industry.
What are brine chillers?
Brine chillers are an answer when the cooling medium is water with glycol. This occurs when the low fluid temperature is requested, or glycol is added to the cooling water to prevent freezing. With the advanced technology in brine chillers, food processing can precisely control their cooling procedure by utilizing a Brine cooling System by Refcon.
Brine Chillers are prepared with an incorporated air-cooled condenser. Apart from that, it can also work with a remote air-cooled or evaporative condenser. They can be used for outdoor installation or indoor establishment in a machinery room as a brine refrigeration system. Incorporating all effective technologies in the brine cooling system, our brine chillers are furnished with a particular managing component permitting continuous smooth operation even in -20°C surrounding temperature.
Where do you need brine chillers?
It is used to preserve fish, vegetables, and meat; this process is mainly known as bringing.
Also, it is usually used to age halloumi and feta cheeses.
Brine is a common fluid used in large refrigeration installations to transport heat from place to place.
It is also used for pickling products, as a means of preserving them or increasing for taste. Almost anything can be pickled; most commonly, it includes cucumbers, eggs, and peppers.
Features of brine chillers for which it is highly appreciated in the outside industry
Energy proficient
Incorporated with Modern technology
Compact
long-lasting
Rugged design
Smooth performance
Advantages of using brine chillers
You can save on power bills
Close control of leaving brine temperature
You can easily select the brine chillers size and heat
Rejection equipment which precisely fit your job
Ease of installation
Balanced wear on compressors
Superb service back-up
As one of the most reliable brine cooling system manufacturers, we ensure the best quality and smooth running of the entire plant. Our responsibilities include Designing, Manufacturing, Installing, and Servicing, accomplished by our Technocrats, with more than a decade of experience in the Field of Refrigeration and Air Conditioning. Our range of offers in chilled brine systems includes packaged chillers, brine plants, air conditioning plants, cold storage, carbon dioxide liquefaction plants, custom-built design equipment, and all types of refrigeration and air conditioning equipment. Owing to our quality-conscious approach, close supervision and undivided attention, quick turnaround time of delivery, client relationship, and prompt after-sales services, we assure of systems with a brine chiller working principle. With efficient technology backed by robust research and experience, we, as brine chilling plant manufacturers, are thriving in the competitive market at a swift pace with proficiency and efficiency.