Cold Storage Plants With Prefabricated PUF Panels Monoblock Units & Bigger Size Cold Storages
Cold Storages (Dairy / Fruits & Vegetables / Drugs & Chemicals etc)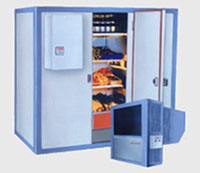 REFCON design, manufactures, supply, install and commission Freon / Ammonia based cold storage plants. REFCON manufactures and supply cold storage with prefabricated PUF Panels and Monoblock Refrigeration Unit up to (-) 40 Deg C room temperature requirement. Also we take turnkey job (except civil work) for developing bigger size cold storage plants.
Turnkey Projects
REFCON undertakes turnkey contracts for any type of refrigeration / air Conditioning requirement.
Cold Room
Refcon Offers sandwitch type pre-fabricated, ready to assemble polyurethne foamed (PUF) panels for cold stores with monoblock (packaged/split) type refrigeration units. It is extremely easy and quick to assemble on cold storage cell. The elements, Prefebricated with the sandwitch system, are light and easy to handle, but at the same time, are robust and compact once assembled. Standard modular lengths from 200mm to 1500mm, heights from 2000mm to 6000mm.
Puf Resin complying with ASTM D 1692/58 DIN 410285 specifications.
High insulation coefficient, density 40 kg/cu.mt, high pressure injection techniques
Inner/Outer finish available in, self extinguishing fibreglass, stainless steel AISI 304
Galvanized plate, galvanized pre painted and galvanized pre-plastcized sheet metals
PUF Insulation thickness available from 50mm to 200mm
Low wall thickness compared to block/brick wall
Low maintainance and excellent weather tightness large panel size will reduces joints
Fast erection time saves cost of construction with one step installation, as compared to multi step field work of conventional insulated buildings.
Specially designed Camlock are provided, which holds the panel in place and together in two stage actions, tongue and groove Joints are provided to secure tight fit.
Doors are available in various thickness and sizes with imported/Indian fittings.
Floor is provided with marine ply and chequered plate.