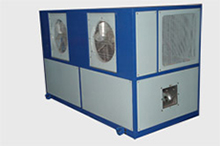 REFCON design, manufactures, supply, install and commission Freon / Ammonia based Dehumidification system, required for industrial application, to control humidity in production area.
The Temperature and Humidity level can be designed to individual requirement. (Humidity Level upto 40-35% RH). REFCON supplies High Side Refrigeration equipment as well as low side material and takes total turnkey job with ducting, insulation, acoustic insulation etc.
Since most modern machinery require a controlled environment to operate; international standards for dehumidification plants, and reliable Indian dehumidifier manufacturers is vital for the nation's steady industrial progress. At
REFCON Technologies & Systems Pvt. Ltd
, we want to bring this new age of India's growth the best services and products - since we are one of the nation's biggest, most prestigious, and among oldest refrigeration systems, cooling solutions, and dehumidification plants manufacturers.
We are not only one of the first names as Industrial cooling systems providers; but also among the only industrial dehumidifier manufacturers in India to work on all the leading International Standard Certifications - ASME, TEMA, ASHRAE, ISHRAE, and IS Standards!
We custom design a range of dehumidification plants and climate control systems; and undertake the most challenging turnkey projects in the country, and across the world. REFCON Technologies & Systems Pvt. Ltd., along with our Group Companies; is among India's leading dehumidifier manufacturers, and among the largest suppliers and service providers for various industrial cooling systems and equipments.
While we cater to huge brands like Hindustan Unilever Ltd. and Laffans Petrochemicals Ltd.; if you're looking for the most dependable and efficient service providers, and even small scale custom solutions from one of India's best Dehumidification Plants manufacturers - REFCON Technologies & Systems is your most reliable and resourceful vendor!