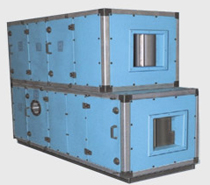 Today it is necessary to maintain proper and required room conditions like Temperature, Humidity, Air quality in Terms of Class contentiously for pharmaceutical chillers or Pharma chilling plants product (Bulk Drug/Formulation) manufacturing units, as per WHO standards.
Refcon carry out Design, Heat Calculation Layout, Ducting Mfg. and supply of AHU condensing Unit, Electrical Panel.

Refcon
with its enriched experience provides, Turnkey Services like Site erection, Installing and commissioning of complete system for establishing and maintaining Pharmaceutical Clean Rooms, Pharmaceutical Air Conditioning, Pharma Chilling Plants and Condensing Unit with required quality. Air class by install required micron Pre, M.V. and HEAPA Filters as per requirements of schedule M and GMP standards.
AHU ( Air Handling Units )
Double/Single skin Construction.
Made out of Heavy Aluminum Extruded Section with Heavy Ms Base Frame.
Powder Coated, 25mm/ 50mm PUF Insulation Panels, (GI Inner and Outer Skin)
Krugger/Nicotra forward/backward curved DIDW fans with Drive Motor.
Fan, Coil Filters Section, Mixing Chamber with Supply, Return Fresh Air Dampers
rovision of service door in blower and mixing section wherever required and the doors and panels will be sealed with rubber gasket.
We take special care to provide zero air leakage in AHU system.
Condensing Units
Highly efficient condensing units, with Rotary/Scroll/Reciprocating Compressor are provided, the Units are manufactured with utmost care and are power efficient, consuming optimum required power for required capacity.