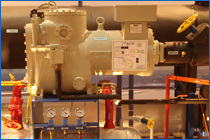 We manufacture and supply wide range of Freon and Ammonia based Screw Chillers, with Water Cooled and Air Cooled with variety of (Low / Medium) temperature range up to (-) 40 Deg C.
We provide varied range and makes of
Screw Compressors
with single and twin screw arrangements and with required fittings.
We are manufacturers and exporters of screw chillers, with environment friendly and HFC free refrigerants like Freon.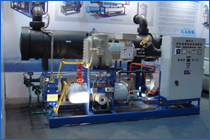 R 134a, R 407c, R 507A, R 404a, Ammonia.Selection of excellent and first grade raw material and fittings, and experienced, excellent and quality workmanship is the key to guaranteeing screw chiller quality.
Characteristics
Full product range suitable for low temprature and Mmedium temprature applications
High performance compressors manufactured by specialized manufacturer like (JE HALL, BITZER, FUSHENG, etc.), is adopted to ensure that the chiller is economical and durable.
Precise capacity control 3 steps/ 4 steps or continuous - stepless capacity control system. Both the capacity control system consist of modulation slide valve, piston rod, cylinder and piston rings
Advanced control algorithm is adopted to control chiller in advance and hence avoid frequent stoppage.
High efficiency, energy saving & low operating Cost
Wide operating range
Low noise & low vibration
Automatic PLC control
Turnkey projects
Robust and simplified structure, low failure rate and high reliability.
Top level efficiency, energy efficient performance and long lasting reliability.
Maximum accessibility and total connectivity
Air cooled and water cooled options
VFD Operated Chillers are Offered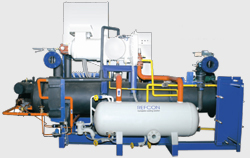 High Energy Efficiency
Variation in the Load of the Plant, Whether seasonal or Daily, mean that the Chiller functions mainly with partial loads. The high number of capacity Steps available, the capacity to supply a load that meets the needs of the Chiller with less power absorption and the optimization of performance with partial loads distinctive features of these chillers, allow attainment of the high level of EER energy efficiency.
High Energy efficiency means more respect for the environment and more cost savings. conforming to ASME TEMA Standards.