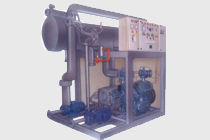 We Design and Manufacture Feron/Amonia based Packaged Chillers/Chilling Plants up to (-) 40 Deg C, The System is designed in accordance with latest National and International Standards.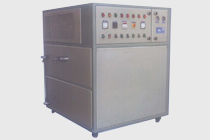 We offer range of Packaged Reciprocating Chiller/Chilling Plant with Air cooled/Water Cooled Type Condenser, Hermetic, Semi Hermetic, Open Type Reciprocating, etc. type compressors, Evaporators,Reciprocating Chillers Complete Control Panel, Expansion Valve, Electrical Panel with Complete Interlocking System and fault Indication. The Packaged Chillers are tested for more than 48 hours under our Stringent quality control System. Physical inspection and performance run trial of Packaged Chillers, is always insisted to the Client before dispatch.
You would know our reputation among the best service providers for large scale industrial or smaller packed chillers in India. We have been one of the forerunners in bringing the domestic market international standards of Industrial Reciprocating Chillers; Indian industries and manufacturing companies requiring our many unique digitalization and customizing services. We are not only among the most prestigious names as manufacturers of reciprocating
chillers in India
, but our credentials and expertise reaches well beyond Indian shores.
For all your requirements in packaged chillers, or custom design and installation of the most efficient and cost effective reciprocating chillers and cooling units; REFCON Technologies & Systems Pvt. Ltd. will be your most willing vendor and service provider.
Contact us
in case you are installing new reciprocating chillers or packaged chillers units; or looking for service providers and reciprocating chiller manufacturers to modernize and upgrade your old units.
We ensure customized services, and can ensure you the best quality, service guarantee, and pricing for all chilling towers and industrial cooling solutions - and even provide small scale reciprocating chillers! Indian companies require a flexible service provider and a self-manufacturing brand; and at
REFCON Technologies & Systems
, we are about bringing unique solutions for this new age in Indian industrialization and economic bounty.
Optimum Operating Parameters
With REFCON Chillers Capacities, Temperature, Refrigerant and the choice of ancillaries can be tailored to individual requirements.
Variable Packaged Contents
Dependent of customer wishes the Packaged can include components say for example the Compressor, Drive Motors, Pumps, Panels etc.
Compact Package
REFCON Packages are delivered complete with internal piping, instrumentation, writing and ready for connection to the customer system immediately on arrival at site.
Simple Operating System
All Operation and maintenance elements are accessible from one side for easy operation and maintenance.
On Site Utilities
REFCON Packages does not require any site and are Ready to use type.